Partner Notification
Meet BASHH Partner Notification KPIs by reaching more partners and closing the loop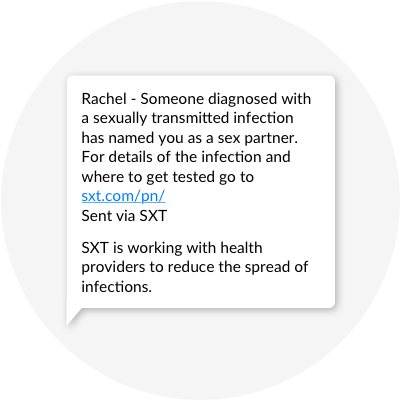 What is the partner notification tool?
When people are diagnosed with an STI, they need to notify their previous sexual partners.
STX's PN tool allows them to do it anonymously and easily. It notifies the partner that they are at risk via email or SMS, then helps them find the nearest testing clinic.
The tool is reducing the spread of STIs by helping potential carriers to get tested, while enabling healthcare providers to track the number of partners tested.
Partner Notification Benefits
Partner notifications at & away from a clinic

Notify partners during a consultation, or send guidance to the patient on how to notify a partner in their own time away from the clinic.

Patients can remain anonymous

Patients frequently feel too embarrassed to notify their partners – but SXT lets them stay anonymous, helping clinics to reach more partners.

Easy to use

Simple and intuitive, the PN tool's step-by-step process is easy for patients, partners and clinics.

Save time and eliminate manual work

The PN tool automates the process, saving you hours that would otherwise be spent notifying partners or following up with patients.

Cross-clinic notification rate tracking

Your index patients' partners may have been seen by other clinics - we keep track of this with updates from our centralised system.

Accessible Statistics and KPI Data

Easily access statistics on the number of partners notified and treated. Have your BASHH KPIs readily available for reporting.
Data Protection
Robust data security and information governance
Partner's info destroyed right after notification is made
No personal patient information is kept
How SXT partner notification works
1. Partner Notification
Step 1:

Select STI diagnosed and partner(s) to be notified

Step 2:

Fill in details and send notifications

Step 3:

Provide basic patient demographics for statistics
Notify Partners:
At the
Clinic
Consultation with patient
Notify Partners:
Away from
Clinic
Send the Patient partner self-notification guidance
Patient can complete partner notification away from the clinic
2. Partner Verification
Step 1:

Partner arrives with a code. Clinic enters it into the system to view STI details and confirms attendance

Step 2:

The system records that the partner has attended the clinic and it will be reflected in the patient's clinic account

Step 3:

Originating clinic can see statistics and PN KPI
Verify Partners:
At the
Clinic
Consultation with patient
Verify partner's attendance
Data transformed into KPIs
So far...
7,500
(approx.)
…partners have been notified through SXT's PN tool, all of whom will require appointments at clinics.
So far...
1,000hours
(approx.)
…have been freed up for Health Advisors, as the PN tool now completes their manual work.
Pricing
1Patients you expect to diagnose with STIs annually in your clinic
Please contact us about volume discounts as well as the savings that come with annual plans
Contact
Interested in having SXT Partner Notification in your clinic?
Please contact us at:
enquiries@sxt.health or call 0333 800 7808